Perhaps barn is a slight exaggeration (barn conversion might be more accurate but would not do it justice - see image to the left) but apart from saying, should you not be aware, that the Longborough Festival Opera might be considered Europe's other Bayreuth - and contains the only other opera house to follow Wagner's designs for a "sunken" orchestra pit - I shall leave a more detailed explanation for a moment, But first:
While certain members of the Wagner family are working to "reduce" the Ring to 12 hours, to make it more affordable to perform outside of the major houses (see
here
), Longborough Festival Opera are now half way through their ring cycle and will stage Siegfreid in this summers festival. This cycle began in 2007 and is to be completed in Wagner's bicentennial year in 2013 when they will perform the entire Ring.
Siegfried
Please note additional performance on 23rd July
Sung in German with English surtitles
23, 25, 28, 30 July 2011
CONDUCTOR
Anthony Negus
DIRECTOR
Alan Privett
All performances start at 3.30pm. 30 minute short interval. 75 minute dining interval.
CAST
Siegfried
– Daniel Brenna
Mime
– Colin Judson
Wotan
– Phillip Joll
Alberich
- Nicholas Folwell
Fafner
– Julian Close
Erda
– Evelyn Krahe
Brünnhilde
– Alwyn Mellor
Forest Bird
– Allison Bell
More (including booking information) Can be found here: Longborough Festival Opera 2011
A little background on the Longborough Festival Opera.
:
Longborough Festival Opera started life in 1991 as Banks Fee Opera, following a series of chamber music concerts in the drawing room of the home of Martin and Lizzie Graham. The Banks Fee Opera consisted , of a small touring opera company who gave two performances with a small orchestra on a temporary stage in the courtyard of the stable block in aid of Sue Ryder and Barnado's. The original audience was mainly local supporters of the charities.
The opera evenings, with picnic interval, were very popular and the Graham's decided to continue. Until 1998, this was in association with Travelling Opera, whose productions of well-known operas in English saw the annual audince increase from a total of 400 in 1991 to 1600 in 1997. Over that period, Banks Fee Opera presented Cosi fan tutte, The Marriage of Figaro, The Barber of Seville, La Bohème, Don Giovanni, La Traviata, The Magic Flute and Carmen.
Longborough Festival Opera was founded after the Graham's converted a barn into a theatre, using seats from the Royal Opera House, Covent Garden, which were being discarded during the process of its recent refurbishment.
LFO and Wagner
: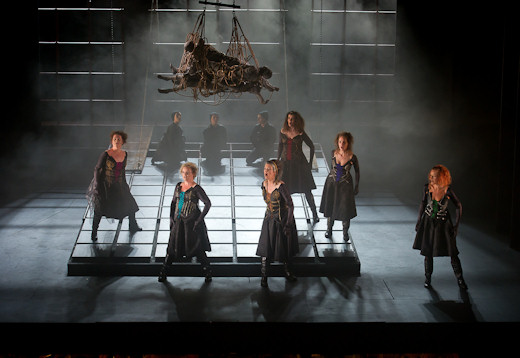 LFO 2010: Die Walkure
If each of the British 'country house' opera companies have their speciality, Longborough's has to be its commitment to Wagner. LFO is the first privately owned opera house to be mounting a production of Wagner's Ring Cycle. After LFO's acclaimed production of the reduced version prepared by Graham Vick and Jonathan Dove for the City of Birmingham Touring Opera company, Longborough is now producing a fully orchestrated version making use of Longborough's excellent pit, modelled on that at Bayreuth, which accommodates 65 playersThe 2007 season featured the first instalment of our new full-length Ring Cycle. Das Rheingold was sung in German and had an orchestra of 60 players conducted by Anthony Negus. Alan Privett directed and the set was designed by Kjell Torriset. Das Rheingold returned in 2008 for a further three performances.In 2010 Longborough staged the next episode, with a new production of Die Walküre, with the artistic team responsible for Das Rheingold.
What others have said:
Die Walküre
it was Negus's achievement with his 65-piece orchestra that I found most fascinating … he paced the whole evening as well as I've ever heard a Wagner opera in performance."
Tom Service, The Guardian
"Played out with a pathos, beauty and immediacy rarely experienced in epic opera."
Nicola Christie, The Independent
Not having been to Longborough and its opera festival before, I was bowled over by it in all respects.
………..I can only hope that Longborough becomes, as it deserves to, as unlikely a success story as Bayreuth once was."
Michael Tanner, The Spectator
LFO 2010: Die Walkure
"Longborough is resourceful in its singer choices and, in Anthony Negus, has a British Wagner conductor second to none. An effusive colleague compared him breathlessly with the hallowed Wagnerian name of Wilhelm Furtwängler – Germany's pre-eminent Ring conductor before the second world war – after Act 1. I wouldn't go quite that far, but Negus learnt his Wagner at the feet of Britain's most revered Wagnerian, the late Reginald Goodall."
Hugh Canning, Sunday Times
"Wagner is making significant inroads into summer festival repertoire. Small scale Wagner can work well, and compared with the ferocious clutter of the Royal Opera's current cycle, the simplicity of Alan Privett's staging came as a relief.
Peter Reed, Sunday Telegraph
Negus conducts a thrilling performance. In his choice of singer, Negus also proves what a fine bunch we have in these islands…………Privett's production is discreet, proving yet again that in Wagner less is more…………
I loved every moment of it, and take my hat off to Graham and his cohorts.
David Mellor, Mail on Sunday
"Any lingering notion that Longborough's full scale Wagner Ring represented folly has been blown away with this fine production of Die Walküre, the second opera in the cycle; it has both intimacy and integrity.
Rian Evans, Guardian